By Lindsay Miller
Fall Market in HighPoint, North Carolina was a success! Susan Lovelace, Bunny Hall, and I worked for 3 days straight to find the newest and greatest merchandise for the showroom. From black and white pops to bold navy and golds, color was a huge trend throughout the show. Here are a few groups that really stood out, and that will be arriving to the store in the following months.
Vanguard Furniture: Mix and Match Dining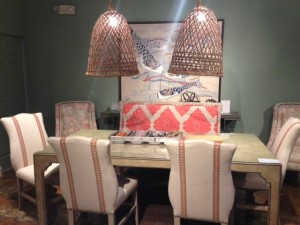 We just love the idea of mixing and matching when it comes to dining groups. A table with 4 matching chairs is just okay, while a dining bench with upholstered side chairs add that wow factor. Mix that with a leather or vinyl wrapped glass-top table, and you have a very custom and designer look.
Ambella Home: Curved Contemporary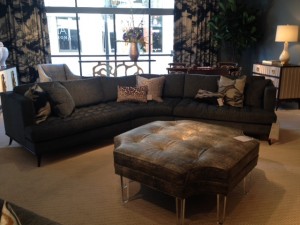 We ordered this sectional as a different take on updated Mid-Century Modern. The tufted seat and curved center piece stand out, and look great floating in a room. The tufted ottoman is done in a scored leather with acrylic legs. Acrylic was HUGE this market. Though it's known to have a more modern look, accents of acrylic are a cool way to bring a touch of contemporary into any design style.
Vanguard Furniture: Flanking Sofas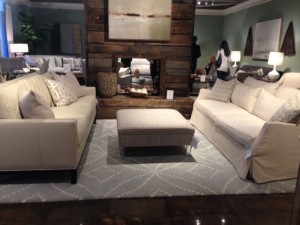 We also love the look of flanking sofas. In a large living space, it's so nice to have 2 sofas, so the men in your life don't fight about the "good seat" during football Saturdays. These two sofas are very different, yet their lines, colors, and styles work together: Skirted vs. legs, slipcovered vs. fully upholstered, tufted vs. plain. Note the acrylic ottoman leg again.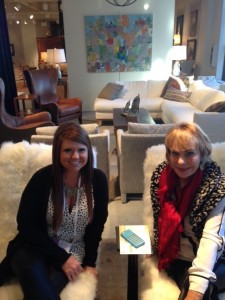 Be sure and stop by the showroom to see our new market finds arriving daily!