Available Now!
Drum roll, please! The latest news among Lovelace Interiors is the beautiful new coffee-table book, Some Like It HOT: Inspiring Spaces by Florida's Hottest Designers by Beth Benton Buckley! The book includes interiors created by thirty of the state's best and brightest experts in the interior design field, and we're so proud to say that Lovelace Interiors owner and principle designer, Susan Lovelace, is one of them!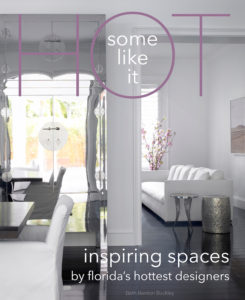 These Florida designers contributed some of their favorite spaces along with their insights and inspirations into what makes this industry important and what gives Florida homes and commercial properties their distinct styles. From furnishings to artwork, rugs, paint colors, and all other things that make a space feel like home, the book is full of rich photography and interesting tips. Whether you need some design inspiration of your own or you're just looking for an elegant coffee-table book as a decor element to complete your latest interior project, this is the perfect choice for any lover of all things beautiful. Other featured designers include Juan Carlos Arcila-Duque, Todd Davis & Rob Brown, Sam Robin, Hillary Littlejohn Scurtis. Amy Herman, Brianna Michelle, Deborah Wecselman, Debra Butler, Judith Liegeois, Margarita & Cristina Courtney, Pamela Iannacio, Sandra Diaz-Velasco, Whitney Bloom, and many more.
Some Like It HOT: Inspiring Spaces by Florida's Hottest Designers is available now on Amazon and Barnes & Noble. Click here to order your copy or stop by Lovelace Interiors!
Do you want to stay in the loop with announcements from Lovelace? Click here to join our newsletter!