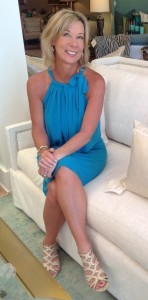 Married on April Fool's Day in Barbados | Completed first open water dive at night, in a cave | First started working with Susan Lovelace in 1993, when she had a small office inside Clements Antiques
What is inspiring you lately? Lovelace Interiors! I've been here for 20 years and right now, this is the most beautiful I have ever seen the showroom. It looks the best it has ever looked.
What's your go-to cocktail :  Woodford Reserve and Ginger Ale. Because it's made in Kentucky & I'm a Kentucky girl!
When you aren't designing and doing your creative field, what can you most likely be found doing? Playing Tennis!
What's in your perfect picnic basket : a good bottle of wine, brie cheese, grapes, and a good gourmet cracker.
I never have enough … time! I need like 4 more hours in the day.
I can't say no to… a good doubles tennis match!
I am obsessed with…  the Houzz website! I sit there and just look and dream about the beautiful homes that are on there.
If you won 10 million dollars, what would be your first purchase? A fabulous home, about 5000 sq ft home, with a pool and a spa. An open space.
Favorite material/textures: linen, mercury glass, beach glass
Your style in words: I like a sophisticated look that is livable and comfortable.
Favorite tv show: Nashville and Scandal
Most treasured possession: my vintage bath tub
What is your favorite stage of your design/creative process? I love new construction when it's framed and you're visualizing the space and getting to make decisions. And I love the smell of raw lumber. Then when it's finished, and you turn on all the lights and it looks beautiful, that's such a great feeling.
Movie set you'd love to live in: Something's Gotta Give
Celebrity closet you'd like to raid:  Jennifer Anniston
Click here to for Julie's Bio and Contact Information!